Rosenbauer conceives the future – today!
The megatrends of our time and the future of firefighting technology.
Unfortunately, it is impossible to know today what will happen tomorrow. However, to be able to forecast how the world will change in the future and how living conditions will develop can be determined by means of studies and research. The reflections on future events and the technical and social changes that will affect the fire departments and their organisation and technology, already in the third version of the company's own Firefighting Trendmap.

Rosenbauer cooperates with external research and educational institutions in the same way that its own employees are involved in the innovation process. The decisive input as to how the firefighting technology will look in the future, however, always comes from the users, the fire departments. Rosenbauer is in constant, intensive dialog with them, because their expertise is ultimately the key to successful products.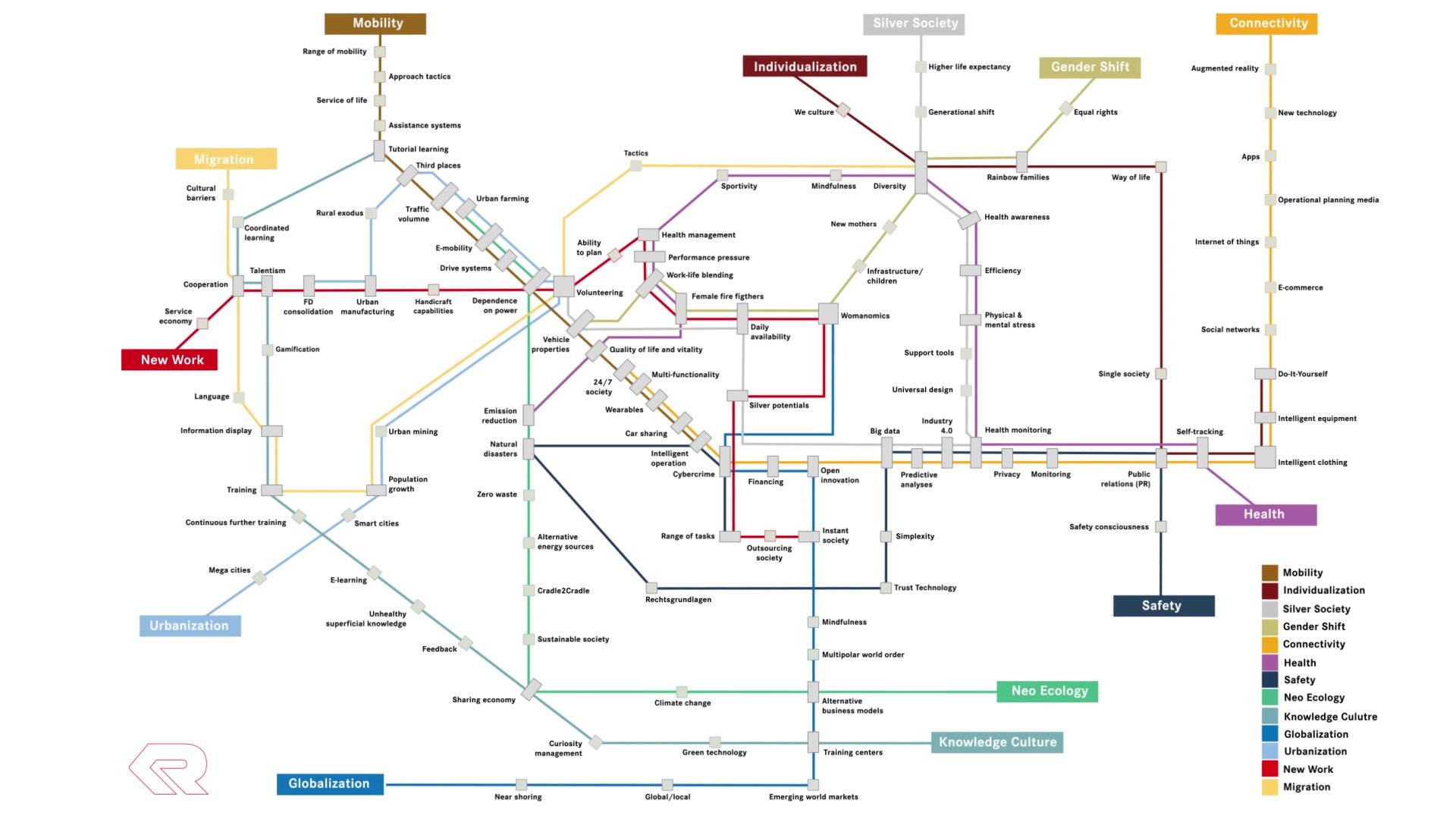 The megatrends explained in more detail.
Urbanization
For the first time in human history, more people live in cities than in the countryside. By 2050, it is predicted that 74% of the world's population will live in cities. Urbanization implies a potential threat of a decrease in volunteerism and unsalaried work in an increasingly anonymous world. Due to an exodus of young people, operational availability in rural areas will also be jeopardized in the future.
Gender Shift
The "gender shift" trend relates to a fundamental change in the classic gender roles in our world. Equal rights has become a major keyword – and this is also the case in firefighting circles. More and more women are interested in firefighting. As a result, new and supplementary competences are acquired. In the context of this trend, it is necessary to adapt the operation of the equipment and the vehicle characteristics to the changed requirements to ensure smooth operation.
Globalization
The world's community is being redefined. On the one hand, nationality is increasingly losing importance and, on the other hand, immediate vicinities are becoming more important. Herein lie new challenges for fire departments in terms of regionalization and in the merging of fire departments – especially in regard to capacity balancing, funding, and the exchange of knowledge.
Silver Society
The increasing life expectancy of our society involves great potential for future fire departments. Emergency crews that have been active for a long period can pass on relevant practical experience to the next generation – which increases the efficiency of fire departments tremendously. This also means creating appropriate working conditions for those emergency crews and supporting natural physical strength with new technologies.
Knowledge Culture
We are transitioning from an industrial society to a knowledge society. Learning and education are changing in the age of knowledge explosion, exponential
learning, virtuality, and crowd-based knowledge. Digital media facilitates access to an ever-increasing amount of information. Through online and live video training, knowledge can also be conveyed over long distances in real time. Simulator training becomes more and more important due to ever-increasing demands.
New work
Even fire departments are also caught up in the uncertain transition from an industrial to a knowledge society. The number of professionals is decreasing, and scheduling and availability need to be re-thought. As a result of the decline in skilled crafts, technical skills are also lost. Social networks and teamwork become more important. The new type of cooperation and more intensive networking of capacity will also characterize the work of fire departments in the future.
Individualization
Individualization is currently one of the greatest trends in society and economy alike. Technical systems are expected to adapt flexibly to individual requirements. In this society, which provides us with more and more liberties but likewise more and more pressure, fire departments are still a bastion for values like team spirit and cooperation matter.
Safety
Increasing global prosperity and imbalanced economical, political and ecological situations lead to a growing need for safety. As emergency crews and fire departments are perceived to be a major pillar of safety and security, this will also lead to additional challenges for them. Intelligent operating systems support rescue operations, whereby error sources are minimized and faster decisions can be made.
Health
Health and safety are basic needs that are increasingly important in times of global change. In firefighting and everyday life, emphasis is increasingly placed upon reducing physical and psychological stress and checking vital parameters. Safety before, during and after emergency operations is key to reducing any kind of health risks for firefighters.
Mobility
Mobility has become a basic requirement in our lives. Hence an increasing mobility diversity (e-mobility, intelligent vehicles, autonomous driving, etc.) creates new challenges for emergency crews. At the same time, this offers new possibilities for firefighting vehicles with regard to duration of use and type, approach tactics and one-man operation.
Neo Ecology
In times of climate change, a new environmental consciousness and shift in paradigm are needed. Accordingly, the expectation is that efficient and clean drive systems for fire engines and fire extinguishers must be used, which have little or no impact on the environment.
Connectivity
Connectivity is the term used for the new organization of people within networks. Added to this are new forms of communication. People communicate with machines and machines with each other via the "Internet of Things". Intelligent systems integrated into vehicles, buildings and operational clothing are in demand and change the way that fire departments work.
Migration
Locations in which there are large concentrations of migrants require new operational tactics and a rethink of fundamental operational procedures. It is necessary to overcome language and cultural barriers. One extreme expression of this trend can be that migrants sometimes react to the uniform itself, due to their experiences with people in uniform. Due to cultural differences, there is only limited interest in volunteer fire brigade work. The flow of refugees caused by unrest, war, and climate change will only spur this trend.
Rosenbauer conceives the future - today.